Home

Welcome to Animals Ilan Resource! Please read on below the photo!...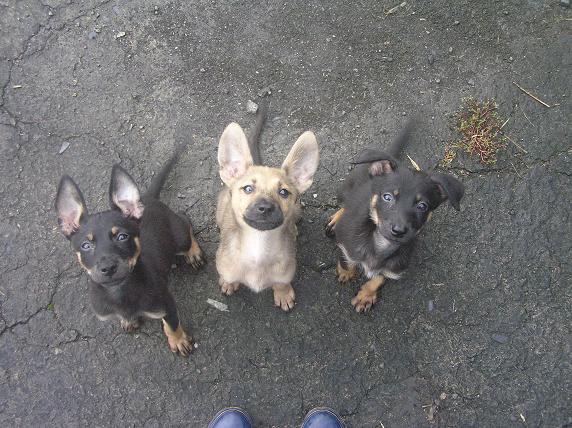 Recent News:
* Moonbeam's home!! She disappeared from her adoptive home over a year ago, but was brought in to the government shelter by garbage collectors this morning, and I was called because my name's on her microchip! Make sure your dog or cat is microchipped!! And read all about Moonbeam here! March 10, 2014.
* FREE SPAYING FOR FEMALE DOGS: on Saturday and Sunday, Dec. 14-15, 2013 female dogs will be spayed for free; please call the government shelter at (03)960-2350 ext. 104-109 on Friday, Dec. 13 to sign up and to find out the location. Please help get the word out to your friends/neighbors/students. The more dogs who are spayed, the fewer strays who will wind up in the shelters or on the streets. Thanks!!
* Support the movie 12 nights (十二夜), on now at Yo Ai movie theater in Yilan City. By law, animals must be kept for at least 12 days in Taiwan's government animal shelters before being put down; this documentary was filmed over 12 days in a government stray animal shelter in Taiwan, and follows the life of some of the animals who have wound up there. The money the movie makes is being donated to organizations who help stray animals. Read more and see the trailer! Dec. 11, 2013
* Lost dog found!: Heidi disappeared from his foster home and was missing for 12 nights; on the 13th night he miraculously came home! Read all about it soon, and find out what you can do if your dog gets lost. Dec. 11, 2013
* The month of October saw 2 dogs spayed and 1 dog neutered at Abbie's. Scout, Dill, and Q are pretty cute and are up for adoption!
News from earlier in 2013:
* Beach pup: Little Q was abandoned at the beach. Now she has a foster home at Abbie's place. Q's young, she's cute, and she needs a real home asap! Please read more about Little Q and view her photos! March 20, 2013.
* New rescue: Jingshen has a foster home! Shanni was really worried about a sweet dog she saw abandoned on the beach; her friends Candy and Garrett agreed to give Jingshen a temporary foster home til another foster or adoptive home can be found for him. If you'd like to help, please contact A.I.R.! Thank you Shanni, Candy, and Garrett! Read Jingshen's story! January 17, 2013
Good news:
* The Yilan County Government Shelter (a.k.a Animal Plant Disease Control Center Yilan County, ), has organized a few free spaying events for female dogs and cats this year. These events have been funded by the Nong Hui. If you'd like to know more about the next event (this weekend, Dec. 14-15), call the Shelter at (03)960-2350 ext 104-109; they request that interested parties call on Friday, Dec. 13.
* Humane Luodong has been sponsoring free spaying for dogs and cats right here in Yilan County! Paired with an amazing vet from Taipei, and a bunch of volunteers, they are doing incredible and important work! The vet and Humane Luodong get donations to sponsor the spaying so that people in our county can avail themselves of the free services. Contact A.I.R. for Humane Luodong's contact info if you'd like to help out, or if you need to arrange for some animals you know of to be spayed for free.
* 2 Dogs: In Taiwan, there's a superstition that says that owning two dogs is bad luck... We beg to differ! Two dogs are better than one! Read an essay from Taiwan about the joys of two dogs under Reason and Rhymes! And read another essay on the same subject from Nevada! Please feel free to contribute your own "2 dogs are better than one" story (send it to me via mailform)!
Noteworthy:
* A.I.R. is NOT A SHELTER! :) But we are a resource! If you find a stray and want to help, you've got lots of options. One of the best is to foster that stray and work on getting him/her adopted into a loving permanent home. Don't be daunted, it's always possible to find a good home for a good animal. For encouragement, check out the list of all the rescued A.I.R. animals that have found good homes through dedicated A.I.R. volunteers and friends.
* If you love animals and miss the companionship of a pet, but can't commit to keeping a long-term pet at this time, please check out our On-Call Foster Program.
* View lovely adoptable animals who are in need of good homes in the Rehoming section! See some of our happily adopted animals there too!
* If you want to help with A.I.R.'s mission, see the Results section. A.I.R. needs lots of manpower help on a wide range of specific projects, and monetary donations (whether you'd like them to go towards CNR or education or just towards foster animal care) are incredibly helpful too.
* Read an informative article from 2000 if you'd like to know more about Taiwan's stray animal situation.
* Read fun and thought-provoking poetry and essays under Reason and Rhymes.
* If you've lost a dog you love, read: "A Dog's Last Will" in the "Reason and Rhymes" section.
* People all across Taiwan are doing amazing work to help this island's animals. Find links to other groups in Taiwan in the Get Involved section.
* A.I.R. now stands for Animals Ilan Resource. Details on the R in A.I.R. can be found here!
About A.I.R.:
A.I.R. is located in Yilan County, Taiwan.

A.I.R.'s mission is to
*promote responsible pet ownership
and
*reduce Yilan County's existing stray population.

Our goal is a stray-free Yilan County, populated by happy/healthy Yilan pets (and people)!
We promote responsible pet ownership through education that:
*a pet is for life;
*spaying and neutering prevents unwanted litters;
*vaccination protects against disease;
*animals need exercise!

We are working to reduce Yilan County's existing stray population through
*education (about spaying/neutering and against abandonment)
to prevent the dumping of future new strays;
and through
*the implementation of an Yilan-wide CNR (Capture Neuter Return) program
to halt the current stray population's explosive growth.
A.I.R. is not a shelter, but we are a resource for people who want to help strays in Yilan. Please feel free to contact us if you'd like advice on helping a stray or on caring for an animal you love. We'd also love to hear from anyone who wants to help!
Submenu